Jim And The French Vanilla "Afraid Of The House" Out 2/10! First 200 on mailorder only ORANGE vinyl!

Autistic Youth "Idle Minds"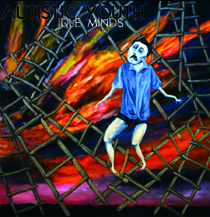 Long awaited 2nd album from hardworking PDX youngsters, following up their classic "Landmine Beach" LP, as well as singles on Black Water, Rock Bottom, Taken By Surprise, and more.  Driving, melodic punk/hardcore (but NOT "melodic hardcore" if ya get the distinction) with dark, swirling undercurrents. Catcy but not at all vapid. Sounding like a cross between Portland, Southern California, and Copenhagen, you could compare this to bands like Observers/Red Dons, No Hope For The Kids, Articles Of Faith, Reagan Youth, The Wipers, Adolecscents, etc etc.  We've wanted to do something with these guys forever, and while the recording process took longer than normal, but we think it was well worth the wait. Co-release with Dirtnap/Black Water in the US and Taken By Surprise/Sabotage in Europe.