Sonic Avenues – Mistakes Out Now!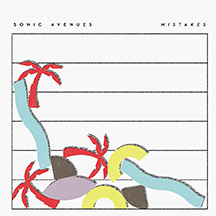 Sonic Avenues – Mistakes available now on LP, CD, digital, + mailorder-exclusive clear vinyl!
 Having delivered the quintessential powerpop/punk album in 2012′s Dirtnap-released burner Television Youth, Montreal's Sonic Avenues take it to another level on their third LP Mistakes.
 Building on their signature melodic style, the Aves return with an evolved and considerably more varied effort that resulted from dropping all preconceived notions of how a "punk" record should sound.
 The band made a concerted effort to not repeat itself, and it shows. While no doubt teeming with energy and hooks, Mistakes eases off the light speed tempos of previous releases and shows greater sophistication in both songwriting and production.
 Self-produced by the band in singer Max's apartment, Mistakes was written over a period of 7 months and produced in less than three. Mixing together songs dark, bright, short, and long, this release really finds the band coming into its own and claiming a distinct niche within the contemporary pop/punk pantheon.
 Fans of previous Sonic Avenues efforts will discover treats both familiar ("Waiting For A Change") and completely unexpected ("Better Days To Come") on this album – by far the band's best to date!
 Be sure to catch Sonic Avenues on tour in 2014 – with dates planned in more than seven European countries, Japan, Russia, the U.S. and Canada! Full European dates (all with our pals Needles//Pins) are below, keep checking our website/Facebook/Twitter pages for further announcements!
 The first 175 copies of the LP come on clear vinyl, and are only available from our mailorder site, www.greennoiserecords.com (Or at the Green Noise Records shop, for all your Portlanders!) Black vinyl and CD's are also available. Our color vinyl editions can sell out quickly, so orders yours immediately!
 All copies of the LP come with an insert with a coupon for a free 256 kbps Mp3 download. Free posters with every order, while supplies last.
 **********************************************************
Related Titles On Sale:
Sonic Avenues – Television Youth LP is on sale for $8 from 4/14-4/21!
**********************************************************
 We offer free media rate shipping (U.S. customers only, sorry) for orders $25 or higher. We ship your orders 5 days a week, most orders go out within 48 hours of receipt.
 Order your copy of the LP/CD from www.greennoiserecords.com
Stream for free, download for $7 from www.dirtnaprecords.bandcamp.com
 Want to stock this release in your store/distro? Wholesale info can be had by writing jennifer@noidearecords.com
 TRACK LISTING:
1. Waiting For A Change
2. Automatic
3. New Vogues
4. Teenage Brain
5. Better Days To Come
6. In Your Head
7. Your Destiny
8. Too Late
9. Wasted Summer
10. Tired, Bored And Alone
11. Lost & Found
SONIC AVENUES EUROPEAN TOUR:
2014.05.06 Cologne (DE) @ Sonic Ballroom
2014.05.07 Berlin (DE) @ Cortina Bob
2014.05.08 Aachen (DE) @ AZ
2014.05.09 Rotterdam (NL) @ Rotterdam Riot
2014.05.10 Osnabruck (DE) @ Substanz
2014.05.11 Bremen (DE) @ Sielwallhaus
2014.05.12 Hamburg (DE) @ Hafenklang
2014.05.13 Heemskerk (NL) @ Cafe Lokaal
2014.05.14 Tubingen (DE) @ Epplehaus
2014.05.15 Innsbruck (AT) @ PMK
2014.05.16 Ostrava (CZ) @ Plan B
2014.05.17 Roznov Pod Radhostem (CZ) @ Vrah
2014.05.18 Munich (DE) @ Kafe Kult
2014.05.19 Vienna (AUS) @ Arena
2014.05.20 Budapest (HU) @ Trafik Klub
2014.05.22 San Sebastian (ESP) @ Le Bukowski
2014.05.23 Castellon (ESP) @ Four Seasons Club
2014.05.24 Valencia (ESP) @ Loco Club
2014.05.25 Malaga (ESP) @ Velvet Club
2014.05.26 Madrid (ESP) @ Rock Place
2014.05.27 Oviedo (ESP) @ La Calleja La Ciega
2014.05.28 Zaragozza (ESP) @ Pub Eccos
https://www.facebook.com/SonicAvenues
RECENT RELEASES:
 Missing Monuments – s/t LP/CD (LP still available on gold vinyl, CD has entire first LP and 2nd 7" as bonus tracks, for a total of 23 songs.)
 Neighborhood Brats – Total Dementia 7" (Red vinyl out of print, black still available. LP on Deranged coming soon.)
Autistic Youth – Nonage LP ( Clear vinyl still available!)
Radioactivity – s/t LP (Been out of stock for a bit, 3rd pressing just in!)
UPCOMING RELEASES:
 The Estranged – s/t LP (3rd and best LP from Portland dark-punk kings! Should be out any second now!)