Mean Jeans/Kepi Ghoulie – Maul Of America Tour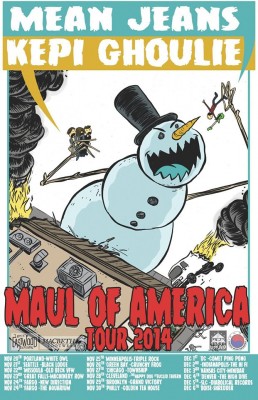 Mean Jeans and Kepi Ghoulie will be hitting the road for a coast to coast tour later this month!
Mean Jeans will be playing 2 sets a night, both their own and as Kepi's backing band! More Jeans stuff on Dirtnap in 2015!
Nov 20 Portland – White Owl
F Nov21, Seattle – Black Lodge
S Nov 22 , MISSOULA TBA
Nov 23, Great Falls Machinery Row
Nov 24 Fargo – New Direction
Nov 25 Minneapolis – Triple Rock
Nov 26 Green Bay – Crunchy Frog
NOV 27 Chicago – Township with The Lemons
F Nov 28 Cleveland – the happy dog at Euclid tavern
Nov 29 Brooklyn Grand Victory with Hector's Pets and Nancy
Nov 30 Philly Golden Tea House
Dec 1 DC – comet ping pong with Passing Phases
Dec 2 Indianapolis – The Hi-Fi
Dec 3 Kansas City – Minibar
Dec 4 Denver – The High Dive
F Dec 5 SLC – Diabolical Records
S Dec 6 Boise – Shredder