Steve Adamyk Band – Graceland LP AND Bad Sports – Living With Secrets 12″s will go up on the website on Monday 8/22, begin shipping on Friday 8/26. Each will have a mailorder-only CLEAR vinyl version that is only available direct from Dirtnap.

Black Sunday "Tronic Blanc"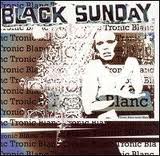 Alicja from Lost Sounds, Mouserocket, River City Tanlines, Fitts,
Clears, Nervous Patterns, etc in her first post-Lost Sounds release!
Black Sunday melds the paranoid, futuristic keyboard buzz of Lost Sounds
with the haunting pop sensibilities of Mouserocket. Intense art-rock
workouts meet sprawling, lush soundscapes. Agressive noise rock
side-by-side with undeniable pop hooks. Comparisons to other bands (even
her other projects) are utterly useless, though. In the end, this
sounds like no-one but Alicja.