Steve Adamyk Band – Graceland LP AND Bad Sports – Living With Secrets 12″s will go up on the website on Monday 8/22, begin shipping on Friday 8/26. Each will have a mailorder-only CLEAR vinyl version that is only available direct from Dirtnap.

Epoxies "Synthesized"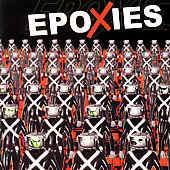 Dirtnap alumni The Epoxies return to their roots long enough to throw us a fuckin' bone and release this 5 song EP, a compilation of their two
loooooong out of print Dirtnap 7″s. (the originals of both of which sell for big money on eBay)    Die hard fans may recognize this as a
home-made, self released CD-R the bandhas been selling at their shows  the last year or so. We thought it was high time togive this a wider
release, so here it is!