Steve Adamyk Band – Graceland LP AND Bad Sports – Living With Secrets 12″s will go up on the website on Monday 8/22, begin shipping on Friday 8/26. Each will have a mailorder-only CLEAR vinyl version that is only available direct from Dirtnap.

High Tension Wires "Midnight Cashier"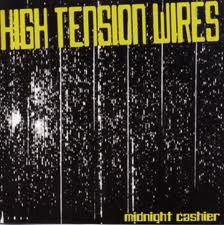 High Tension Wires is an all star Texas band featuring Mike Wiebe (Riverboat Gamblers), Mark Ryan (Marked Men), Chris Pulliam (The Reds), and Mike Throneberry (Marked Men, who on this album replaces Jeff Burke, also of the Marked Men).     After numerous delays owing to the band members' busy schedules and Dirtnap's general incompetence, High Tension Wires finally release their long awaited follow up album. Midnight Cashier finds the band moving in a slightly darker, weirder, more diverse direction while keeping their tightly wound punchy 77 style punk intact. You're going to love this record, we swear.