Steve Adamyk Band – Graceland LP AND Bad Sports – Living With Secrets 12″s will go up on the website on Monday 8/22, begin shipping on Friday 8/26. Each will have a mailorder-only CLEAR vinyl version that is only available direct from Dirtnap.

Jeffie Genetic And His Clones "Need A Wave"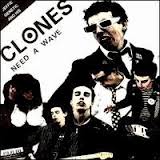 Jeffie from The Tranzmitors solo keyboard power pop explosion! includes rad video!