Jim And The French Vanilla "Afraid Of The House" Out 2/10! First 200 on mailorder only ORANGE vinyl!

Mean Jeans/Big Eyes "split"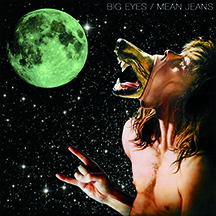 Fresh off a joint West Coast tour, 2 of our favorite bands proceed to team up for a split 7″. We probably should have put this out BEFORE the tour, but whatever. 1 new original song from each band, plus they cover each cover a song from the other as well. We're psyched to finally be releasing something from Big Eyes, and we've released many things from Mean Jeans, with more on the way in 2013! If I know both of these bands, look for much touring in the near future!
All copies come with download coupon. RED VINYL OUT OF PRINT, BLACK STILL AVAILABLE.