Steve Adamyk Band – Graceland LP AND Bad Sports – Living With Secrets 12″s will go up on the website on Monday 8/22, begin shipping on Friday 8/26. Each will have a mailorder-only CLEAR vinyl version that is only available direct from Dirtnap.

Psyched To Die "Year One"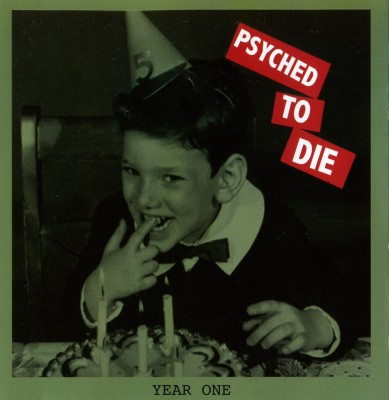 Psyched To Die practically qualify as a New Jersey punk all-star band, being composed of ex-members of The Ergs, For Science, Hunchback and a bunch more.   Forget all that, though, this sounds nothing like any of those bands. (Mikey Erg is nothing if not versatile!)   Starting off as a straightforward hardcore band with lyrics about as uplifting as the name would suggest, Psyched To Die's newer material slows it down just a bit and explores the area where punk and early hardcore intersect, kind of a cross between Dangerhouse and early Orange County hardcore. (if the song title "OCD Life" is not a Rikk Angew nod, it should be!)   Happy-fun-time music this ain't. This is fast, dirty, bleak and negative, but surprisingly catchy at the same time.   This CD compiles the as-yet-unreleased Dirtnap 7″ (patience!), the Sterile Walls 7″ released on Grave Mistake/Firestarter, the 8 song demo (some of their best stuff in our humble opinion!) and may or may not include a hidden bonus track. You'll just have to buy it and find out.