The Splits – II LP's on sale Tuesday May 28th around 9am PST!
Low Culture/Needles//Pins 7″ out 10/28
Sonic Avenues West Coast Tour
New Green Noise Records Location!
Green Noise Records is MOVING!
We will be closing our current location on Gladstone Street at 7pm on Friday September 27th.
Will be be re-opening at 5857 SE Foster Rd at 12pm on Friday October 3rd!
New Green Noise Records Webstore/Coupon Code
Low Culture/Needles//Pins split 7″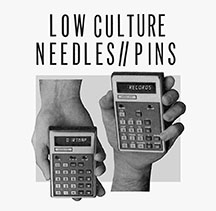 Two of our favorite DIY punk bands come together for a great split!
Low Culture should be familiar to anyone into Dirtnap stuff after the well-received Screens LP in early 2013. Ragged, melodic garagepunk originally from Las Cruces, NM, with members now spread out all over the place (including right here in Portland!). Features members of Shang-A-Lang and Marked Men, and sounds pretty much like a cross between the 2 bands, with the former's distinct songwriting style mashed together with the latter's tighter, cleaner performances. These recordings are the results of the band's first trip into a "pro" recording studio, sounding cleaner but no less effective than past material.
Vancouver, B.C's Needles//Pins are one of favorite current bands who are NOT already on Dirtnap. We're friends with them, have seen 'em a million times (oftentimes on tour with Dirtnap staples such as Sonic Avenues and Steve Adamyk Band), but for some reason have never gotten around to releasing anything by them until now. On their side of the split, Needless//Pins give us 2 memorable punk/garage rippers that were recorded in the same sessions as their excellent new LP, Shamebirds, just released on Dirt Cult Records. We're stoked to finally be involved with putting something out something by these folks, and hope to do more in the future!
This 7" is a one-time only pressing of 1000. All copies come with 320kbps download coupon.