Radioactivity – Silent Kill LP/CD out now!
Sonic Avenues West Coast Tour
New Green Noise Records Location!
Green Noise Records is MOVING!
We will be closing our current location on Gladstone Street at 7pm on Friday September 27th.
Will be be re-opening at 5857 SE Foster Rd at 12pm on Friday October 3rd!
New Green Noise Records Webstore/Coupon Code
Low Culture/Needles//Pins split 7″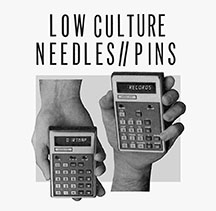 Two of our favorite DIY punk bands come together for a great split!
Low Culture should be familiar to anyone into Dirtnap stuff after the well-received Screens LP in early 2013. Ragged, melodic garagepunk originally from Las Cruces, NM, with members now spread out all over the place (including right here in Portland!). Features members of Shang-A-Lang and Marked Men, and sounds pretty much like a cross between the 2 bands, with the former's distinct songwriting style mashed together with the latter's tighter, cleaner performances. These recordings are the results of the band's first trip into a "pro" recording studio, sounding cleaner but no less effective than past material.
Vancouver, B.C's Needles//Pins are one of favorite current bands who are NOT already on Dirtnap. We're friends with them, have seen 'em a million times (oftentimes on tour with Dirtnap staples such as Sonic Avenues and Steve Adamyk Band), but for some reason have never gotten around to releasing anything by them until now. On their side of the split, Needless//Pins give us 2 memorable punk/garage rippers that were recorded in the same sessions as their excellent new LP, Shamebirds, just released on Dirt Cult Records. We're stoked to finally be involved with putting something out something by these folks, and hope to do more in the future!
This 7" is a one-time only pressing of 1000. All copies come with 320kbps download coupon.
Sugar Stems Out Now + More!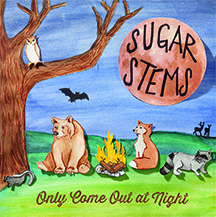 Sugar Stems – Only Come Out At Night available now on LP, CD, digital, + mailorder-exclusive clear vinyl!
 Betsy, Jon, Steph, and Drew are back with their third and finest album – and this time they're joined by Andy Harris (ex Goodnight
Loving) on organ!
Only Come Out At Night is the second Sugar Stems album to be released on Dirtnap and follows last year's wonderful and warmly
received Can't Wait.
 Sugar Stems are still the best power pop band going today, and again the band has delivered a beautifully craftedand immaculately produced collection of songs. Continuing in the direction of Can't Wait, this album finds Betsy's songwriting reaching new levels of sophistication and maturity. And with the added dimension of keyboards, the band's sound is fuller and richer than ever.
 Longtime fans hoping for impossibly catchy melodies and big hooks will not be disappointed in Only Come Out At Night. "The One" and "Radio Heartthrob" will have you wondering aloud why they're not massive radio hits. And tracks like "Haunted" and "Run Rabbit Run" demonstrate that Sugar Stems can still rock with the best of 'em. But by no means has the band delivered a mere repeat of previous albums. The '60s-inspired "Some Might Say" and acoustic "Million Miles" are gorgeous pop gems that pick up where previous masterpieces like "Love You To Pieces" left off. And while "growing up" can sometimes be the death of a pop band, the 1-2 opening punch of "Baby Teeth" and "I Know Where I'm Going" suggests that Sugar Stems are only getting better as their music probes deeper into fully adult themes. Betsy has become a veritable powerhouse on vocals, and the band as a whole has never sounded tighter or more assured.
 Boasting the band's most beautiful melodies to date along with near flawless production, Only Come Out At Night will delight existing Sugar Stems fans and attract a whole lot of new ones. Whether you're a power pop aficionado or a lover of great music in general, this is one you won't want to miss. Cover art is an original water color painting by Betsy!
 The first 140 of the LP come on limited edition, mailorder-only CLEAR vinyl. All copies come with coupon for 320 kps Mp3 download. All mailorder copies come with free poster, while supplies last.
 **********************************************************
Related Titles On Sale:
 Sugar Stems – Can't Wait LP is on sale for $9 from 07/22-07/31! There is a VERY limited (around 12!) quantity of gold vinyl still available, as well as black vinyl galore.
http://www.greennoiserecords.com/store/product_info.php?products_id=28771
 Sugar Stems – Sugar Stems N' Friends LP (live on the radio, one time only pressing of 300 on Dusty Medical Records)
http://www.greennoiserecords.com/store/product_info.php?products_id=32196
 **********************************************************
 We offer free media rate shipping (U.S. customers only, sorry) for orders $25 or higher. We ship your orders 5 days a week, most orders go out within 48 hours of receipt.
 Order your copy of the LP/CD from www.greennoiserecords.com
Stream for free, download for $7 from www.dirtnaprecords.bandcamp.com
Want to stock this release in your store/distro? Wholesale info can be had by writing jennifer@noidearecords.com
 TRACK LISTING:
1. Baby Teeth
2. I Know Where I'm Going
3. The One
4. Haunted
5. Some Might Say
6. We Only Come Out At Night
7. Run Run Rabbit
8. Radio Heartthrob
9. Tell The Truth
10. Elm Tree Eulogy
11. Sun Rise, Sea Change
12. Million Miles
 SUGAR STEMS ON TOUR:
07/25 Seattle, WA @ Victory Lounge
07/26 Portland, OR @ Slabtown
07/27 Longview, WA @ Chinese Garden
07/28 Oakland, CA @ Night Light
07/29 Mission Tobacco Lounge, Riverside, CA
07/30 Los Angeles, CA @ Redwood Bar
07/31 San Diego, CA @ Ken Club
08/01 Orange County, CA @ House Of Blues
08/02 Tempe, AZ @ Time Out Lounge
08/08 Appleton, WI  @ Miles Of Music
08/22 Milwaukee, WI @ Cactus Club (LP release show!)
09/05 Madison, WI @ High Noon Saloon, Madison, WI
http://sugarstems.com/
https://www.facebook.com/sugarstems
RECENT RELEASES:
Steve Adamyk Band – Dial Tone LP (VERY limited amount of color vinyl still available)
Sonic Avenues – Mistakes LP/CD (Color vinyl out of print, black vinyl and CD still available)
Missing Monuments- s/t LP/CD (Color vinyl still available)
DIRTNAP RELATED TITLES RECENTLY BACK IN STOCK:
Marked Men – Ghosts LP
Marked Men – Fix My Brain LP
Marked Men – On The Outside LP
Exploding Hearts – Guitar Romantic LP
Exploding Hearts – Shattered LP